Catamaran Nord Martinique
The Journey
Meet at 8am at la Poterie Village
Means of access :
From Rivière-Salée, head towards Les Trois-Ilets, then after 3.5 km, on the right, take the red dirt road.
8h30
Discovery of fond de la baie • Trois-Ilets • Mangrove du Lamentin / Rivière-Salée
9h
Sailing down the bay of Fort-de-France, towards the North Caribbean - Crossing the AGOA sanctuary - Observation of marine mammals
11h
1st stopover in la baie de Saint-Pierre • Baignade et Apéro
12h
Creole meal served on board as a buffet (rosé wine, coffee, rhum vieux St-James)
13h
We follow this wild coastline as close as possible to its small hidden coves
14h
2nd stopover at the foot of the Fond Giraumon cliffs • Plongée libre • Baignade • Farniente
15h
Sailing up the bay of Fort-de-France
If you have already validated the details of the Perle du Nord outing with our Blue Dream team or one of our partners, we invite you to click here to proceed to the payment of your activity.
The Pearl of the North
You can contact us by e-mail via the form below and/or on +596 696 61 00 16.
We look forward to welcoming you on board !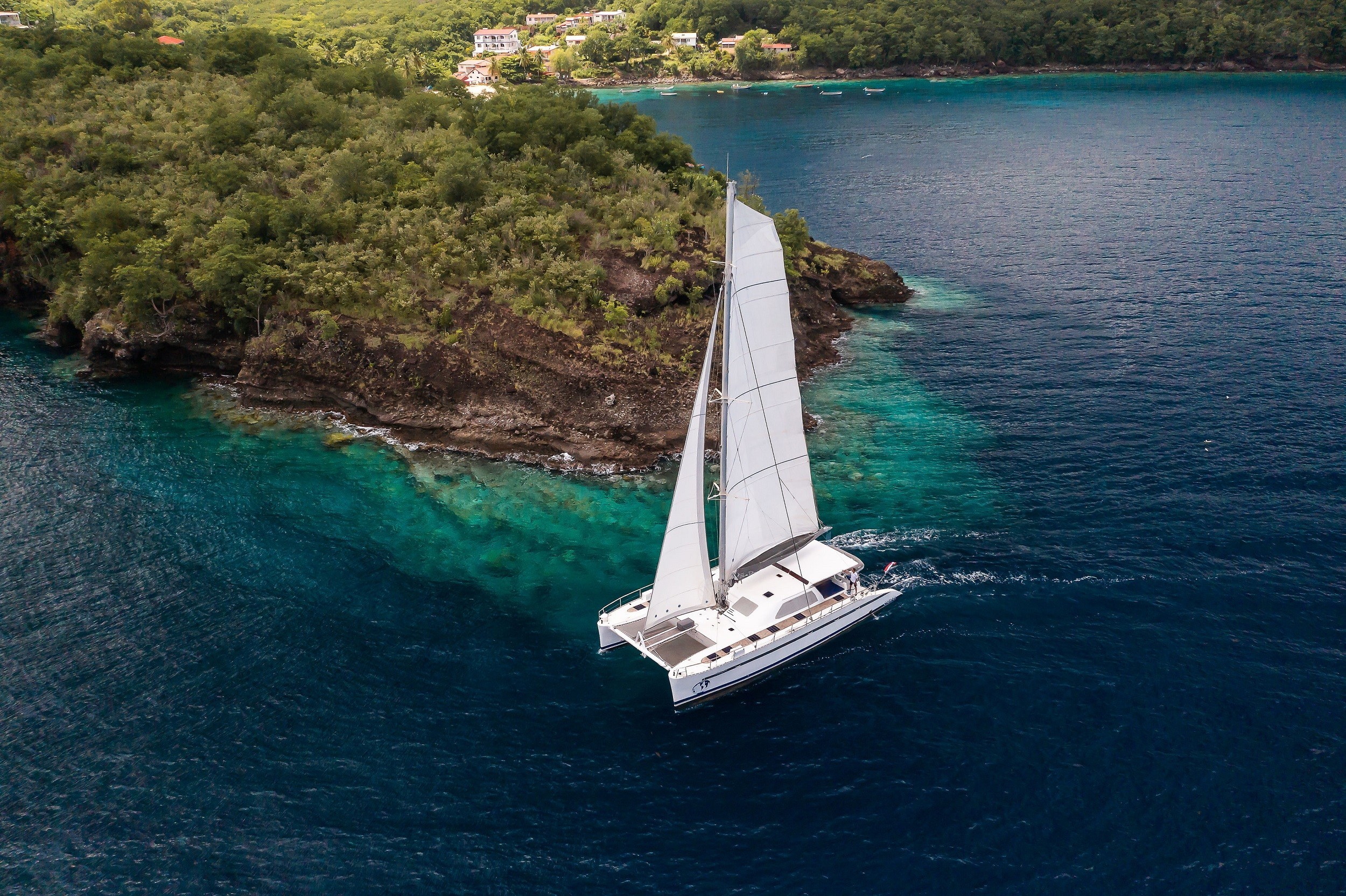 Excursion Martinique Catamaran "Pélagia"
Build at la Rochelle in the building site of Nautitech, PELAGIA es a cruising habitable catamaran of 62′ (circa 19m) ideal for navigating in the warm waters of the Caribbean with a shaded exterior area. Its design was created to carry around 28 passengers and 2 crew members per day for coastal navigation. The catamaran is equipped with 4 cabins and 4 bathrooms.
Its performance under sail will allow you to travel fast and in comfort, to enjoy the program of activities. PELAGIA is also very pleasant due to its deck layout, sunbathing area, and its "trampoline" in the front of the boat. It has a large cockpit very well protected from the sun, the rain, and the ocean spray, with a great "lounge spirit" salon with a sofa, and background music. PELAGIA hosts around its table all passengers on board for unforgettable moments. It allows you to discover, in a day, the universe of a trip on a boat. It can be hired privately according to your needs.
Why would you go for an excursion to the Northern Sea of Martinique?
The northern coast of Martinique is a magnificent region with breathtaking landscapes. You can see the mountains and the volcano from far, and the ocean has a blinding shade of blue with turquoise waters that let the depths of the lagoon be seen through. The beaches and the creeks belong to a paradise too, and the region offers many activities. The northern coast of Martinique is the place where land meets the sea.
The sea around Martinique offers an exceptional diversity of landscapes. You will be astonished by the colours of the water and its transparency. The coasts, sometimes rough, are covered in exuberant vegetation. The seabeds, accessible to everyone, reveal their secrets to those who are curious. Bordered by coral reefs, they are rich in marine life. There is something special for every taste when taking an excursion on the Northern Sea of Martinique! Discover the abundance of flora and fauna that made this island famous all around the world. You will soon discover why Martinique is called "the Emerald of the Caribbean".
There are so many things to do here, including swimming, snorkelling, submarine diving, fishing, kayaking, golfing, and so much more. The beaches are magnificent, with clear sand and water. During your catamaran excursion in Martinique you can see the bays of Case Pilote, Belle Fontaine, and Prêcheur. Among other places that are worth checking we can list Le Carbet, Fond Lahaye, and bay St. Pierre.
What are the advantages of going for an excursion on a catamaran?
A catamaran is made of two hulls placed parallel to each-other and tied by beams. Catamarans became more and more popular since their invention in Polynesia, where they were used exclusively for navigation. Today, catamarans are used in competitions, and to transport a large number of passengers for excursions or a mini cruise on a catamaran in Martinique. Catamarans are often more stable on water than traditional boats, which makes them safer for passengers. They are also, generally, larger, which makes them more stable and with more space for sunbathing and swimming.
The day excursions in a catamaran in northern Martinique present many advantages. They are normally more stable on water than traditional boats such as sailboats or yachts when heading out to the sea, which makes them perfect to do the tour at the coasts and the islands. They are also larger and can transport more people, which makes them perfect for large groups and families, with their deck and large cabin. Moreover, they offer great views of the landscape and many possibilities for suntanning and bathing. They are an excellent way to explore the coasts of Martinique with children or in a group.
Is it possible to observe the dolphins of Martinique?
Yes, you can often see dolphins near the northern coast of Martinique during a dolphin stroll in Martinique. In Fort-de-France, dolphins are not far from the port. There are also spots where it's easier to see them: around St. Pierre and St. Anne. To be able to see them there is no easier way than embarking on a cruise in a catamaran with dolphins in Martinique, vous vivrez ainsi des moments inoubliables à bord de ce bateau agréable et spacieux. Pendant cette traversée en catamaran dauphins martinique , where you will live unforgettable moments on board this lovely and spacious boat. While crossing in a half-day catamaran with dolphins in Martinique you will go along the coasts up to Prêcheur, always with a great panorama of the island, and you will enjoy the company of dolphins. Among the dolphins you can spot in the Caribbean Sea we can name the Tursips Truncatus, Delphinus Delphis, and the Cephalorhyncus Hectori.
The Tursiops Truncatus is a marine mammal that can be up to 3.5 m long and be up to 150 kg. It has a slim body, a short beak with a bump in the front, and it doesn't have visible teeth. On the other hand, it has truncated extremities fins, located on its back. This dolphin lives in the Atlantic and Indian Ocean waters, but can also be spotted in rivers.
The Delphinus Delphis is a marine mammal that is long around 2m and weighs between 20 to 25 kg. It has a long body, a mid-size tail, and black or grey fins located on the back. This dolphin doesn't have visible teeth, and it feeds on squid and little fish.
The Cephalorhyncus Hectori is a marine mammal with a length from 1.9 to 2 metres and weights up to 80 Kg. It has a long fluted tail, a mid-size beak and a rounded head. This dolphin doesn't have visible teeth and it often has a rounded head. It can live up to 30 years and it feeds of fish (among which eel), but also squid.
Balade en catamaran magnifique Balade en mer magnifique nous avons passé une superbe journée où nous avons eu la chance de voir des dauphins, le capitaine est passionné de nature et d'animaux et le respect de la nature est préservé, tout était parfait, le repas les escales baignades et le paysage ! Un véritable moment d'évasion
Une journée en mer parfaite Superbe croisière : équipage sympa et passionnant (commentaires top sur la Martinique et le respect des mammifères marins), chance de voir énormément de dauphins, déjeuner à bord simple mais très bon… On recommande chaudement ! Nous referons certainement cette sortie avec d'autres membres de la famille…

Une journée au top Journée extrêmement agréable, avec un équipage d'une gentillesse sans nom. Un respect pour l'environnement incluant les cétacés (…) qui est remarquable, ce qui se fait rare de nos jours. Ce fut un moment très convivial et simplement incroyable. Repas et boissons au top bien évidemment ! Merci à Laurent, Vishnou et André !
Magnifique journée catamaran Une journée de rêve sur un catamaran très confortable dans le sanctuaire d'Agoa. Laurent le skipper est intarissable sur les animaux marins qui peuplent la région. Nous avons eu la chance de rencontrer 3 variétés de dauphins ! Maé son hôtesse est à nos petits soins. La nourriture et les boissons sont excellentes ! À recommander

Journée en catamaran Réponse rapide et adaptée à notre demande , pour une journée quasi parfaite ( les méduses s'étaient invitées à la baignade ) cata très confortable , repas délicieux et fait maison , équipage pro et très concerné par leur mission de respect de l'environnement.

Magnifique journée dans le nord Nous avons la journée dans le nord Caraïbes. Magnifique journée avec un superbe équipage. Des différents prestataires testés Blue Dream Croisières est le plus sympa à nos yeux. Très adaptés à des jeunes enfants. Très bon repas sur le bateau. Nous avons eu de la chance que les dauphins soient venu nous voir. Superbe bateau. Bref que du bonheur. On recommande

Amadeus_Bistrot
2021-03-25
Une équipe de fou ! Désolé pour le retard ! Qu'une chose à dire... Allez-y les yeux fermés. Parcours de malade. Un excellent moment. Merci à vous pour cette expérience hors normes. Bon courage à vous et vos collègues. J'espère à bientôt !

Topissime Nous avons fait la sortie "Perle du Nord" c'était une superbe journée !!! Un bateau agréable, des bonnes conditions, le capitaine et son équipier sont super sympa et adorable ! Ils nous ont partagé des histoire sur la Martinique, des explications sur la zone protégée AGOA où on peut y observer des mammifères marins. Nous avons eu la chance d'observer des dauphins d'ailleurs. Laurent et Max nous ont emmené à de jolies spots de Snorkeling. Cette équipe à un respect total pour l'environnement marin, je trouve ça vraiment génial. Ils sont passionnés par ce qu'ils font, ça se voit et se ressent. Ça rend leurs histoires et tout ce qu'ils partagent avec nous, plus intense car ils sont complètement impliqués dans ce qu'ils font. Je les conseille sans hésitation !! Merci à vous pour cette magnifique journée Marie

Journée inoubliable Nous avons passé une magnifique journée avec Olivier et Lolo, un équipage vraiment sympathique, professionnel et à l'écoute. Nous sommes heureux d'avoir naviguer vers le nord de la Martinique dans une ambiance chaleureuse et familiale. Une excursion pour ceux qui privilégient l'authenticité au commercial.

Super Une journée inoubliable avec un équipage au top (Olivier et Lolo) qui se soucis vraiment du bien être de leurs passager pour la journée! Les escales sont très sympas dont une ou l'on pouvais observer des poissons (masques et tuba disponibles sur le bateau). La nourriture est bonne. Les petites histoires raconté par l'équipage sont très intéressantes. Bref une journée paradisiaque ou l'ont a pu observer de magnifiques dauphins ! Merci à Olivier et Lolo 😁