Catamaran South Martinique
The Journey
Meeting at 8am at the Poterie Village
How to get there:
From Riviere salée, direction les trois-ilets then after 3,5 Km, on the right, take the red dirt road.
8h30
Discovery of the bottom of the bay - Trois-Ilets - Mangrove of Lamentin / Rivière-Salée
9h
Sailing down the bay of Fort-de-France, towards the South Caribbean - Sailing towards the Diamond Rock, beginning of the St Lucie channel - Tour of the Diamond Rock (depending on weather conditions) - Historical and environmental animation of the site
11h30
1st stop at Anse Chaudière - Snorkeling - Swimming and Aperitif
12h
Creole meal served on board as a buffet (rosé wine, coffee, old St-James rum)
13h30
We go along the Anses d'Arlet
14h
2ème escale à l'Anse Noire • Plongée libre • Tortues • Baignade • Farniente
15h30
Passing in front of the Grotte aux Chauves-Souris - Going up the bay of Fort-de-France
If you have already validated the details of the Diamond Outing with our Blue Dream team or one of our partners, we invite you to click here to proceed to the payment of your activity.
The Diamond
You can contact us by mail via the form below and/or at +596 696 61 00 16.
We look forward to welcoming you on board!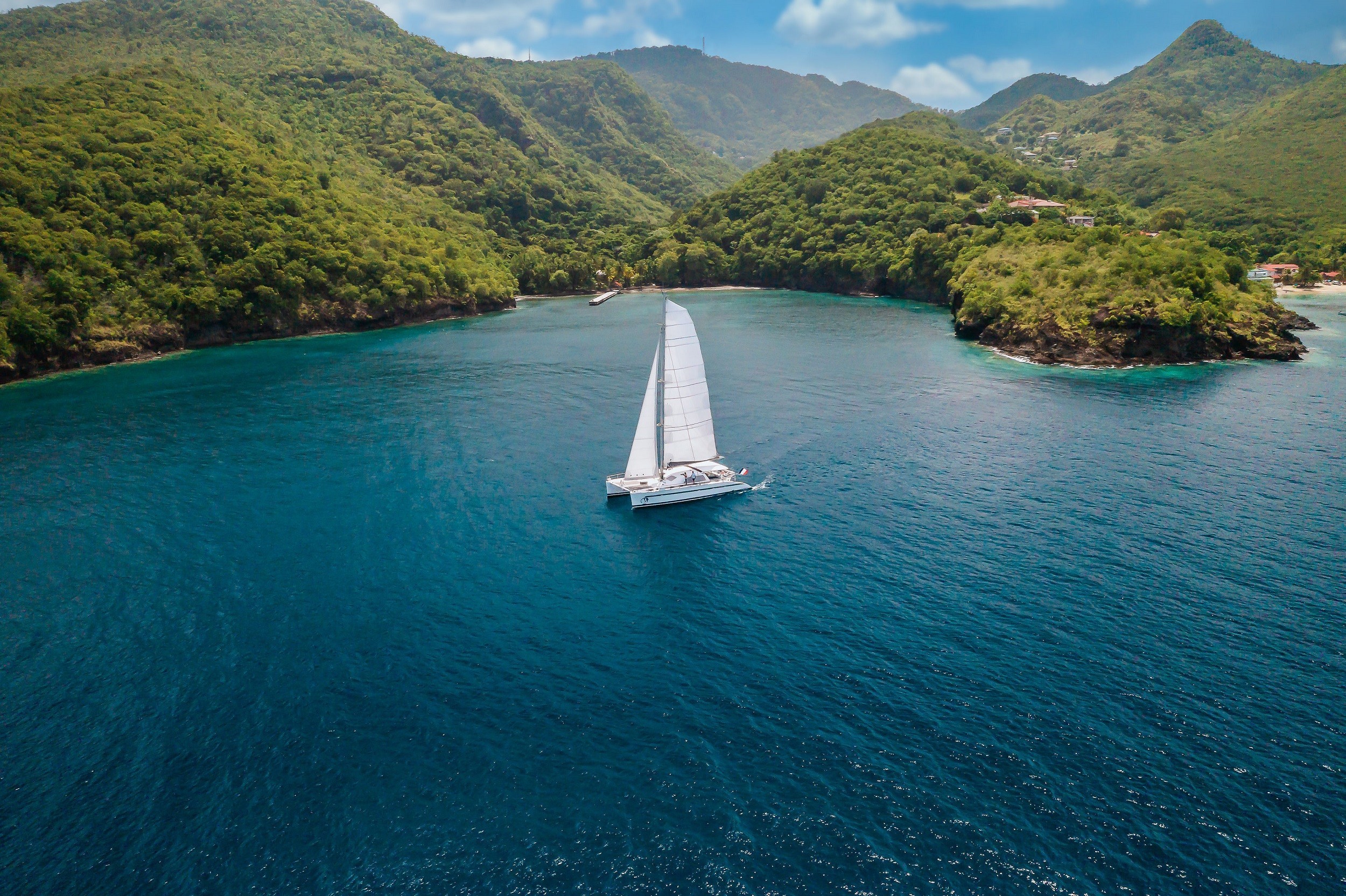 Sea trip on catamaran "Pelagia"
Build at la Rochelle in the building site of Nautitech, PELAGIA es a cruising habitable catamaran of 62′ (circa 19m) ideal for navigating in the warm waters of the Caribbean with a shaded exterior area. Its design was created to carry around 28 passengers and 2 crew members per day for coastal navigation. The catamaran is equipped with 4 cabins and 4 bathrooms.
Its performance under sail will allow you to travel fast and in comfort, to enjoy the program of activities. PELAGIA is also very pleasant due to its deck layout, sunbathing area, and its "trampoline" in the front of the boat. It has a large cockpit very well protected from the sun, the rain, and the ocean spray, with a great "lounge spirit" salon with a sofa, and background music. PELAGIA hosts around its table all passengers on board for unforgettable moments. It allows you to discover, in a day, the universe of a trip on a boat. It can be hired privately according to your needs.
What to do on the southern coasts of Martinique?
There are many things you can do in the southern coast of Martinique. You can take a bath, go for a trip in a catamaran, sunbathe, and go free diving on some magnificent beaches, such as Cove à L'Ane, Cove Mitan, and Cove Coulevre. You can, also, go for a trip up the hills and forests that sprinkle the coastline. And don't forget to visit the villages and the local markets, where you will taste the delicious local cuisine. Along the coasts of Martinique you will observe the numerous species of birds and, in the ocean, the turtles, fish and rays.
The southern coast of Martinique is also the ideal spot for you if you like staying in a calm place and it's surrounded by nature, or it's perfect if you love swimming in crystal waters or snorkelling.
Martinique has very diverse flora and fauna. The island is home of a variety of animals, especially turtles, tarantulas, cliff arachnids, iguanas and snakes. There is also a variety of plants, in particular orchids, hibiscus, porcelain roses and bromeliaceae. The southern coast of Martinique is particularly rich in biodiversity, with many types of trees, flowers and animals.
What would be the value of going for an excursion on a catamaran in Martinique?
There's value in an excursion in a catamaran in Martinique as it gives you the opportunity of seeing the island from the ocean. The catamaran sail along the coast and offer breathtaking views of the cliffs, the beaches, and the villages. You can admire the magnificent beaches of Trois-Ilets, Diamant, and Trinitè, often visited by local and foreign tourists.
The sea excursions offer many fun activities such as bath in the natural pools, snorkelling, or nautical skiing. Taking a stroll in a catamaran is delightful, and you can enjoy the sun, and let yourself be surprised by the warm breeze of the sea. In Martinique, you can also rent a canoe, a kayak, or a paddle to go discover the sea from another angle.
By taking a boat stroll in Martinique, you will have the opportunity to visit Cove Dufour, in the Coves of Arlet, and admire their luxurious vegetation. The park offers spectacular views on the side of the cliffs that uncover white sand beaches and turquoise waters. There are many advantages to a catamaran. A catamaran offers a unique view of the island with an observation point of 360°, and a sunbathing spot in the lower part. Those wanting to stay active, can go kayaking, snorkelling, or many other nautical activities.
An excursion in a catamaran will give you the chance to discover many beaches in a short time. A catamaran is easy to recognise in the sea. It is normally made of two large masts, a brilliant hull, and its distinctive sound that makes it unique.
Another advantage of the catamaran it's that's easy to use. You can depart whenever you want without needing to wait for other boats or shared timeslots. Most of the excursions on a catamaran can be booked online. In Martinique, catamarans offer personalized excursions according to your interests.
Additionally, a catamaran excursion is an affordable offer in comparison with other cruises. You can enjoy a full day for around 90 euros, and discover Martinique through a sea excursion.
Going for a catamaran excursion is also a guarantee of superior quality service. During the trip, the skipper will have the chance to explain to you the different places of interest and will share with you anecdotes about the culture in Martinique.
Watch the turtles in the south of Martinique.
If you are looking for a more ecological excursion during your stay in Martinique, think about going for a turtle watch. The island is home to many turtle species, including the leatherback turtle, the green turtle, and the hawksbill turtle. These are animals under threat of extinction, and protecting them is a priority of the government of Martinique.
There are many spots on the island where you can go to observe animals in their natural habitat. One of the best spots to observe turtles is in Dufour Cove, a little bay located in the municipality of the Arlet Coves. The bay is protected by coral reefs, and it offers the perfect conditions for turtles' egg-laying.
Balade en catamaran magnifique Balade en mer magnifique nous avons passé une superbe journée où nous avons eu la chance de voir des dauphins, le capitaine est passionné de nature et d'animaux et le respect de la nature est préservé, tout était parfait, le repas les escales baignades et le paysage ! Un véritable moment d'évasion
Une journée en mer parfaite Superbe croisière : équipage sympa et passionnant (commentaires top sur la Martinique et le respect des mammifères marins), chance de voir énormément de dauphins, déjeuner à bord simple mais très bon… On recommande chaudement ! Nous referons certainement cette sortie avec d'autres membres de la famille…

Une journée au top Journée extrêmement agréable, avec un équipage d'une gentillesse sans nom. Un respect pour l'environnement incluant les cétacés (…) qui est remarquable, ce qui se fait rare de nos jours. Ce fut un moment très convivial et simplement incroyable. Repas et boissons au top bien évidemment ! Merci à Laurent, Vishnou et André !
Magnifique journée catamaran Une journée de rêve sur un catamaran très confortable dans le sanctuaire d'Agoa. Laurent le skipper est intarissable sur les animaux marins qui peuplent la région. Nous avons eu la chance de rencontrer 3 variétés de dauphins ! Maé son hôtesse est à nos petits soins. La nourriture et les boissons sont excellentes ! À recommander

Journée en catamaran Réponse rapide et adaptée à notre demande , pour une journée quasi parfaite ( les méduses s'étaient invitées à la baignade ) cata très confortable , repas délicieux et fait maison , équipage pro et très concerné par leur mission de respect de l'environnement.

Magnifique journée dans le nord Nous avons la journée dans le nord Caraïbes. Magnifique journée avec un superbe équipage. Des différents prestataires testés Blue Dream Croisières est le plus sympa à nos yeux. Très adaptés à des jeunes enfants. Très bon repas sur le bateau. Nous avons eu de la chance que les dauphins soient venu nous voir. Superbe bateau. Bref que du bonheur. On recommande

Amadeus_Bistrot
2021-03-25
Une équipe de fou ! Désolé pour le retard ! Qu'une chose à dire... Allez-y les yeux fermés. Parcours de malade. Un excellent moment. Merci à vous pour cette expérience hors normes. Bon courage à vous et vos collègues. J'espère à bientôt !

Topissime Nous avons fait la sortie "Perle du Nord" c'était une superbe journée !!! Un bateau agréable, des bonnes conditions, le capitaine et son équipier sont super sympa et adorable ! Ils nous ont partagé des histoire sur la Martinique, des explications sur la zone protégée AGOA où on peut y observer des mammifères marins. Nous avons eu la chance d'observer des dauphins d'ailleurs. Laurent et Max nous ont emmené à de jolies spots de Snorkeling. Cette équipe à un respect total pour l'environnement marin, je trouve ça vraiment génial. Ils sont passionnés par ce qu'ils font, ça se voit et se ressent. Ça rend leurs histoires et tout ce qu'ils partagent avec nous, plus intense car ils sont complètement impliqués dans ce qu'ils font. Je les conseille sans hésitation !! Merci à vous pour cette magnifique journée Marie

Journée inoubliable Nous avons passé une magnifique journée avec Olivier et Lolo, un équipage vraiment sympathique, professionnel et à l'écoute. Nous sommes heureux d'avoir naviguer vers le nord de la Martinique dans une ambiance chaleureuse et familiale. Une excursion pour ceux qui privilégient l'authenticité au commercial.

Super Une journée inoubliable avec un équipage au top (Olivier et Lolo) qui se soucis vraiment du bien être de leurs passager pour la journée! Les escales sont très sympas dont une ou l'on pouvais observer des poissons (masques et tuba disponibles sur le bateau). La nourriture est bonne. Les petites histoires raconté par l'équipage sont très intéressantes. Bref une journée paradisiaque ou l'ont a pu observer de magnifiques dauphins ! Merci à Olivier et Lolo 😁